Hier j'ai fait la découverte (merci Bernard) d'une compilation logicielle originale : un DVD remplit de jeux abandonwares et gratuits destinés au départ pour les environnements MSDOS et Windows mais étant destinés au final aux environnements Unix / Linux.
Cette compilation (téléchargeable via les réseau torrent), peut être gravée sur DVD ou montée à la volée. Elle est composée de 211 jeux compatibles wine et dosbox (l'un ou l'autre sera lancé selon le cas). Un menu graphique accessible via un exécutable windows permet de naviguer et d'installer les jeux dans le menu wine comme n'importe quelle autre application windows.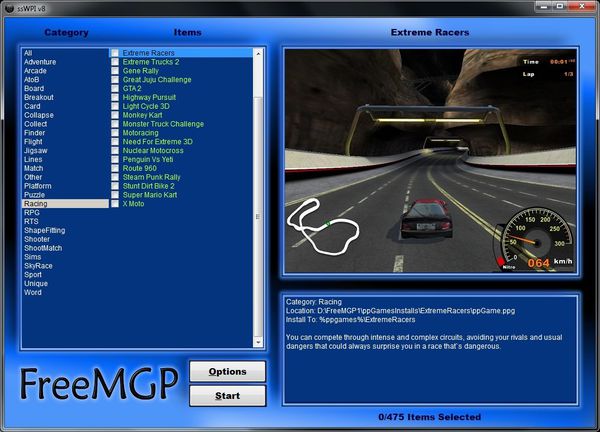 Liste des 211 jeux :
5 Days A Stranger
6 Days A Sacrifice
7 Days A Skeptic
A - B - O - O
A Game About Bouncing
Absolute Survival
Aladdin Puzzle
Alex Kidd Is Back
Alien Breed
An Untitled Story
Antz
Apprentice 1 Deluxe
Attack Of The Groox 1
Aztec Challenge
Azteca
Babble
Ball Racer
B.A.L.L.O.
Blobs 2
Bob The Blob
Bobble Dragons Adventure
Boulder Remake
Boulder Rocks! 3D
Boxes
Brain Hotel
Bridge Builder
Brix Quest
Bug Defender
Burning Sand
Byte Ality Tower Defense
Cake Queen
Cartoonix
Cave Story
Caveman Craig
Cedric And The Revolution
Chaks Temple
Champ
Chromatron
Cosmoball
Cosmos Quest 1
Cosmos Quest 2
Cosmos Quest 3
Crack Attack
Crazy Over Goo
Crillion GPI
Dart' M Up
Dead City
Deflektor X4
Deluxe Pacman
Destructivator
Dizzy Yolk Folk Adventures
Dont Save The Princess
Eldorado Puzzle
Extreme Racers
FLaiL
Fingers Malone
Flash Tower Defense Games
Flip Out
Floating Islands Game
Flock
Free Solitaire 3D

Ghost Busters
Ghouls N Ghosts Remix
Giddy 3
Glest 2
Gnome Garden Carnage
Go Cat
Goblins
Gradle - Unison
Great Secrects Da Vinci
Grey Matter
Grid Wars
Guardian Of Paradise
Gunroar

Habitat For Horror
Hangaroo
HitBlock
Hot Ninja Moon Moon
I - Mones - Dragon
Implausible Mission
J2O
Jezzballix
Jolly Lines
Jumper 1
Jumper 2
Jumper 3

K Ball
Karoshi 2
Karoshi Factory
King's Valley 2
Kiwi
Knytt
Kulkis 2
Kumoon
Lander Reloaded
Lemmings - Oh No More
Lemmings2 - Tribes
Light Cycle 3D
Linx
Logigun
Loopy Puzzle
Lure Of The Temptress
Madhouse
Maniac Mansion DeLuxe
Marble Arena
Mario Forever Galaxy
Mario Lemmings
Meatboy
Miner 2049er Again
Missile Storm
Mr Blocko Super Tournament Edition
Mubbly Tower
Muon
NES quest
Nelly Cootalot
NemeGraphe
Neo Sonic 3R
Net Hack
Neverball
Nonosweeper
Nuclear Motocross
Numpty Physics
O M F
Oh Mummy
Once In Space
Open Yahtzee
Organism
Out Of Order

Pacz
Pandora
Paroxysm
Pearl Hunter
Pekka Kana 2
Penguin Vs Yeti
Pharaoh Puzzle
Pipe Walker
Pix Pang
Plasma Pong
Plasmaworm
P n P
Pogo Sticker
Pointless 2
Poker TH
Pool'm Up
Precision
Prince Of Persia
Principles Of Evil 1
Principles Of Evil 2
Punishment 2
Pushover

Quadrax 1
Quadrax 3
Quadrax 4
Quadrax 5
Quadrax 6
Quest For Yrolg
RIP3
Rainbow Web 2
Ray Hound
Reactor 9
Real Bowling
Real Dominoes
Return To Sector 9
Robbie Swifthand and the Orb of Mystery
Rollin
Rom Check Fail
Route 960
Run Or Be Mechanically Separated
Seven Minutes
Snoopy
Sore Ghoulies
Soul Fu
Splatter Zombie
Squish
Stair Dismount
Stardrone
Stopple
Street Wise
Super Mario Blue Twilight DX
Swarm

Techno Sylph
Teen Agent
The Goonies
The Lost Castle
Toribash
Tower Of Goo Unlimited
Trash Killer 2
Treasure Hunter Man
Tripline
Turbopac
Ultimate Stunts
Uncertain
Under World 2
Updraft
Uplighter
Vacuum Magic
Vegetable Tactics
Venture Arctic
Virtual Silence
What Makes You Tick
Within A Deep Forest
Wolfenstein 3D
Word Hunt
Yellow Shape
Yume Nikki
Z Doom
Zak 2
Zelda - Seeds of Darkness
Zep's Dreamland
h2o
Je ne sais si cette compilation est 100% légale, mais elle pourra faire passer de nombreuses heures aux passionnés de jeux anciens que ce soit sous Windows ou sous Linux.